Construction Company Logo
MattSepeta
Apr 27, 02:35 PM
Are you calling me a liar? I literally went to WhiteHouse.gov, opened the file in Illustrator, and moved the text around myself. :rolleyes:
Some things never change. Laughably bias.

Anyway, like I said, I'm sure there's an explanation... are there any graphic designers here who can help?

I already explained it to you.

When you scan things in, depending on the software, you are often given an option to "auto-inscribe" or something, I cant recall the term. The software then attempts to read the document and embed real type into the PDF, rarely succeeding. I'm assuming that the pieces that came through just happened to be the clearest to read.

EDIT: They probably DO want the controversy to continue! If I was in his shoes I would be eating it up. Every story on a right-wing birther makes the centerists even more alienated from the right.
---
business cnc construction
iliketyla
Mar 31, 08:21 PM
Has LTD ever posted anything not pro-Apple?

I'll give it to you dude, you're very articulate and you have a way of spinning things to sound like you're right, but you are blatantly against anything that encourages competition or threatens Apple in any way.
---
Business Logo Gift Ideas youse
Also, think about what apple would be doing with such a machine - selling you a low cost, low margin mac that you could nonetheless upgrade with 3rd party components for years. Meaning that apple doesn't make a lot off you up front and doesn't get you coming back again for 5-ish years. Great for you, not so great for them. Whereas if they sell you a mac pro, they make a killing up front, so it's ok if you keep it for years, and if they sell you anything else you'll be back a lot sooner.

Yep - and that's the reality of it. It isn't just about the consumer, it's about profit margins, product life cycles, sales, etc. Apple wants to please their customers of course, however at the end of the day, business is business. :cool:
---
Get in Tune DJ Logo
A Merom thread? On my MacRumors?

http://guides.macrumors.com/Merom
---
bring those ideas to life.
i got 2 pins from radio shack today.....one 22000...... and the other 25000......
---
Urban Construction amp;
It must be conspiracy right. Right.
It couldn't just be an honest mistake as a result of a stretched development team.

No. It must be the same guys who shot Kennedy messing up all our tech. It's probably something to do with the Chinese.

I kinda covered that in 'sloppy QA or declining standards' but don't let that get in the way of a good flaming.

As you were.
---
Construction Group and
True (today anyway; in the NT era they were indeed separate platforms though. Which brings me to my next point..)

Point of total (and obnoxious) pedantry here -- XP and W2K3 Server aren't strictly the same codebase; The latter was a huge rewrite job with some fairly significant internal changes.

XP 64bit is based on W2K3, and Vista originally started out on the XP code base and then was scrapped, and was started over using the W2K3 codebase.

It doesn't invalidate your point in any way and the latter is most definitely descended from the former, but unlike previous products they weren't released in parallel. I mention it purely because I find it interesting, and it's also an example of how Windows is "evolving", so to speak.

I think people who say stuff like that are exhibiting a syndrome common to Mac folk who've never spent any time in the PC world -- they take negative comments they remember regarding versions of Windows or the PC experience from about 5 years back and assume they apply to today. XP, for example, really was for the most part a window-dressing of Windows 2000, but that is not the case for Vista. You see similar statements regarding "blue screens of death", overall system stability, etc, which suggest they haven't seen or used a PC since the late 90s/early 00's.

This is very common on both sides of the divide. Many Mac-only people seem to think Windows is still stuck in the Win9x days, and many of the Windows-only types seem to think MacOS is still in the 8.x days.

I guess it's a little like when your friend has kids and you don't see them for a few years, and you're surprised that instead of still being little kids they're teenagers... :)
---
Tripps Renovation Logo
ten-oak-druid
Mar 22, 04:24 PM
This is just a preview of the future, Android based tablets will clean the iPads clock. Apple made the so-called iPad 2 as a 1.5. Low res camera, not enough RAM, and low res screen. It's going to be a verrrry long 2012 for Apple. Sure it's selling like hot cakes now, but when buyers see tablets that they don't have to stand inline for, that have better equipment and are cheaper ... Apples house of cards will come crashing down around them.

The only strength that Apple has is the app ecosystem; which is why they are going after Amazon for spiting on the sidewalk. They know the world of hurt coming their way.

It will be hard for the ipad competition to play the same game they play with computers. You know, subsidizing decent computers with bulk sales of low end devices. They tried this with tablets and they failed. Tablets are a luxury above and beyond a personal computer. No one buying a Dell for $300 is going to add on a tablet.

So how are they going to match Apple's price with the same quality if they can't subsidize with low end garbage? Well samsung did it by using contracts. That is why you find it on amazon rankings not as a tablet but as a mobile phone.

So take your pick. An ipad or a competitor of equal quality with a 2 year contract.

I wonder if Samsung ever sold those 2 million units of the original galaxy that they shipped? And what was the true return rate anyway?
---
Logo Design Ad
LethalWolfe
Apr 10, 02:21 AM
It's not like they threatened anyone. They likely went to the organizers and said "We'd like to make a really cool announcement at your event but we'd need most of your presentation and sponsorship space to do it." SuperMeet said sure, Apple paid, and here we are. It's not like the other sponsors didn't get their money back (I'm assuming.)
The other presenters just had to toss months of planning out the window and scramble to reschedule events w/less than a weeks notice during the industry's biggest annual convention. Hopefully the members of the audience that signed up to see the original line-up will be able to make it to all the reschedule events and, on top of that, everyone going to the SuperMeet has now paid money for tickets to what is nothing more than an Apple PR event.

Dick move by Apple but all will be forgiven as long as they release the holy grail of editing on Tuesday. If they preview 'iMovie Pro' lord help them...


He is asked if he will update his editing studio's workflow to the new Final Cut, and he basically danced around the question, pleaded the 5th, and made it pretty clear that he is holding back some reservations about how the industry will adapt to the changes.

To be fair to Mark (the head of Post at Bunim/Murray) there really isn't anything he could say due to the NDA. Just because what he saw of the new FCP might not lead him to believe it would work in Bunim/Murray's current workflow doesn't mean it might not be awesome for someone else's work flow. It was a tough spot for Mark to be in and I'm not exactly sure why he even kicked off the meeting with "I was there, but don't ask me about it because I'm under NDA". He could've never even have brought it up and it wouldn't have altered the course of the conversation at all.


Lethal
---
Create a free logo to brand
I don't think you've got anything to worry about there...

Looks like your order is going to be delayed, in your favour =)
---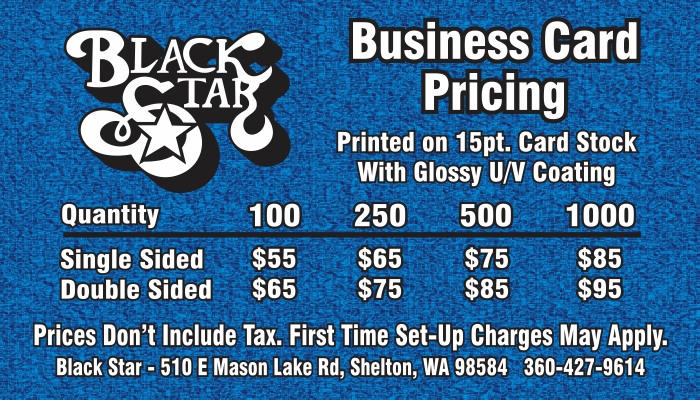 +business+cards+ideas
Please explain this. You'd buy an iPhone 5 with HSPA+, but not one with LTE ? Why ? Makes no sense at all.

Because if Apple release an iPhone 5 with LTE, it will cost more and won't be backwards compatible... right... :rolleyes:

Obviously not a factor.
1) I'm perfectly happy with the data speeds I get on AT&T 3G. I would guess the new 4G phones will suffer in battery life. I don't want to give up battery life for network speed I don't really need. If I had to choose I would choose battery life every time.

2) It's not the cost of the phone, its the cost of the data plan. I would guess it will be like the iPhone 3G launch where AT&T forced you into a 3G plan even if you didn't have 3G coverage in your area. Remember the original $20 iPhone unlimited data plan and how it went away when the new hardware was released?

3) I currently have unlimited data with AT&T which I would like to keep although I've never used > 1.5GB in a month. I doubt very seriously this will be an option with the new "4G" network plans.

4) I can wait for a "4G" phone until there is decent "4G" coverage.
---
your Construction+business
Wirelessly posted (Mozilla/5.0 (iPhone; U; CPU iPhone OS 4_3 like Mac OS X; en-us) AppleWebKit/533.17.9 (KHTML, like Gecko) Version/5.0.2 Mobile/8F190 Safari/6533.18.5)

It's about consistent sales numbers, lower volatility. I'm sure bonus numbers etc. are tied to this. Just like when a company has a great quarter, they may try to push out revenue to the next quarter. Less volatile net income equals stronger stock price.

Not that this move would necessarily influence the stock significantly but same concept.
---
Logan Construction Logo
Wirelessly posted (Mozilla/5.0 (iPhone; U; CPU iPhone OS 4_3_1 like Mac OS X; de-de) AppleWebKit/533.17.9 (KHTML, like Gecko) Mobile/8G4)

Lol, Power of Hardware? Then where is the android Retina Display device?
I Don't Care about dual Core mobile processors. And neither do the 90% Not-Nerd-customers.
---
logo design for my friend#39;s
A same-sex attracted person is living a "gay lifestyle" when he or she dates people of the same sex, "marries" people of the same sex, has same-sex sex, or does any combination of these things. I think that if same-sex attracted people are going to live together, they need to do that as though they were siblings, not as sex partners. In my opinion, they should have purely platonic, nonsexual relationships with one another.

Heterosexual couples need to reserve sex for opposite-sex monogamous marriage. If I had a girlfriend, I might kiss her. But I wouldn't do that to deliberately arouse either of us. If either of us felt tempted to have sex with each other, the kissing would stop right away. I know of a woman who gave an excellent answer when men asked her why saved sex for marriage. She said, "I"m worth waiting for." She lived by her Catholic convictions, and she wouldn't risk letting any man use her as a mere object, as a mere "sex machine."

Obviously most people, including Catholics, aren't able to adhere to this ideal. So are they not allowed to be married? Obviously not. And I know Catholics who have divorced and remarried. That's equally abhorrent. Yet they're allowed to do this.
---
medical logos free company
CaptMurdock
Mar 18, 12:21 AM
I expect better from both of you.

Boy, are you in for a disappointment. :rolleyes:
---
Key Design logo
i wonder if apple will release a version in the app store???
---
Curb Appeal Construction
It's easy. The average person isn't watching blu-rays on a 27 inch or less screen. They get them for their big 50-60 inch TVs. And the sales of Macs are rising despite the lack. True professionals do what is needed to get the job done. Including buying a stand alone drive and 3rd party software if the simple menus in DVD Studio Pro are not enough

I disagree. I would argue that the reason people are not watching Blurays on their computers is because they CAN'T watch them on a computer. Blowing up a regular DVD to full screen on an Apple 27 inch cinema display looks horrible, and the alternative is a highly compressed H264 that looks amazing in comparison. I guarantee that if every Mac shipped with a Bluray drive, I'd have more clients requesting Bluray discs. Clients seem to love DVDs because they are dummy proof. Bluray? The smart ones will have to wait to watch it until they get home where they can put it on their PS3 or something. The others will stick it in their MacBook and then send me an E-mail saying that the DVD they received doesn't work.

Apple has to see financial benefits in not including Bluray in their computers. The professionals will add a drive to their MacPros so they can burn them. But consumers? Apple would no doubt take somewhat of a hit in profit for every Bluray drive that goes into a Mac. They'd also rather sell the HD media through the iTunes Store and make a profit there too. I'll admit it, one of the reasons I haven't switched completely over to buying Bluray Discs is because I can't watch them on my Laptop.
---
itsth, aaa logos a free flame
flopticalcube
Apr 27, 09:33 AM
So many critical issues to discuss and serious problems to overcome and people are still talking about ********** birth certificates? :rolleyes:
---
Few ideas a successful
Apple will never ship a desktop machine so close in size to the mini. Impractical and too much market confusion. I'm expecting a ~25% decrease in size of the current G5 tower, making it more mid-tower sized. This would still be an improvement to the current behemoths.
---
Isn't it 100,000 sold into the distribution channels?

How many are really being bought?

Now that would be a fair comparison.


Have you read the somewhat flawed logic that the article is based on at all?
---
Mike,
I know you're concerned about name-maybe Apple could license the use to you.

Leopard-Public beta like Vista. No-as it can be easily uploaded to torrent sites-like with the Tiger leaks. Apple should keep the preview ADC members only.
---
AppleScruff1
Apr 9, 10:01 PM
I'd wait for Haswell or maybe even Rockwell which will be the 16nm shrink of Haswell.
---
I don't know how many times we have to go round and round with this here. I've been on MacRumors since '01 and it's always the same-old, same-old. It's not legitimate. It's "I-wantism." You have no basis to believe that a Rev B would be more "stabled and refined." That's a hope, backed by nothing -- and nothing Apple ever comments on, either. The bottom line is that you can hope if you want, and you can wait if you want, but to bash Apple for being slow on the trigger, and to make the argument that Meroms are amazing and Yonahs are crap is, frankly, horse manure. Like I said, 64 bit is pretty irrelevant for most users, and the speed and battery differences are quite negligible. And the argument that Apple is losing tons of sales to PC manufactuers is, frankly, laughable too.

Well, I've been on MacRumors since last week and I'm already tired of posts telling me what I really need. I don't recall seeing posts saying Yonah was crap. Most people just want to feel like they are making a good investment on an expensive piece of equipment that may be around for 3-4+ years. I would like a laptop with a 64-bit processor. Period. I don't care what you think I need. The problem with posts like this are that they waste my time, and the time of other users who are looking for information on the release of the new MBP models.

Edit: I should add, however, that if anyone is willing to donate the money for me to purchase a new MBP, I will gladly accept all advice on said purchase.
---
The backlit keyboard thing kinda makes me laugh. Every macbook Ive ever owned has not had the backlit keyboard. I even bought a aluminum unibody and still got screwed out of a backlit keyboard. Finally I got a 2010 mac pro and got the backlit keyboard. what did i do? enjoy it for 2 days then turn it off to save battery life. the keyboard light is always off now and the brightness is set to minimum. so much for that.
---